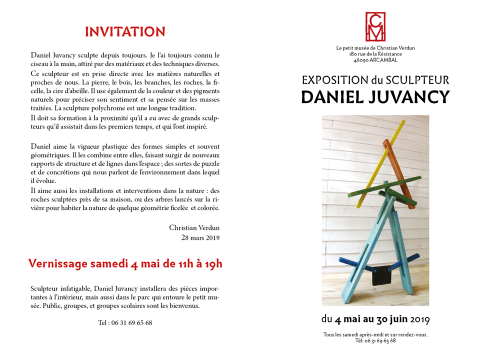 pour voir le site de Christian Verdun
"Daniel Juvancy sculpte depuis toujours. Je l'ai toujours connu le ciseau à la main, attiré par des matériaux et des techniques diverses.
Ce sculpteur est en prise directe avec les matières naturelles et proches de nous.
La pierre, le bois, les branches, la ficelle, la cire d'abeilles.
Il use également de la couleur et des pigments naturels pour préciser son sentiment et sa pensée sur les masses traitées. La sculpture polychrome est une longue tradition.
Il doit sa formation à la proximité qu'il a eu avec de grands sculpteurs qu'il assistait dans les premiers temps et qui l'ont inspiré.
Daniel aime la vigueur plastique des formes simples et souvent géométriques. Il les combine entre elles, faisant surgir de nouveaux rapports de structure et de lignes dans l'espace ; des sortes de puzzle et de concrétions qui nous parlent de l'environnement dans lequel il évolue.
Il aime aussi les interventions dans la nature : des rochers sculptés près de sa maison, ou des arbres lancés sur la rivière pour habiter la nature de quelque géométrie ficelée et colorée."
Christian Verdun
28 mars 2019
"Daniel Juvancy has been sculpting forever, and I have always known him with the chisel in hand, attracted by various materials and techniques.
This sculptor is in direct contact with natural materials and close to us.
Stone, wood, branches, string, beeswax.
He also uses color and natural pigments to clarify his feeling and his thoughts on the masses treated. The polychrome sculpture is a long tradition.

He owes his training to the closeness he had with great sculptors whom he assisted in the early days and who inspired him.
Daniel likes the plastic vigor of simple and often geometric forms. He combines them together, bringing out new relationships of structure and lines in space; jigs and concretions that tell us about the environment in which he evolves.

He also likes interventions in nature: carved rocks near his house, or trees thrown on the river to inhabit the nature of some geometry tied and colored.

Christian Verdun
March 28, 2019